Take the Inner Power Challenge to BE Your Dream!
Attract, create or master what you want most...and shift the shape of your life!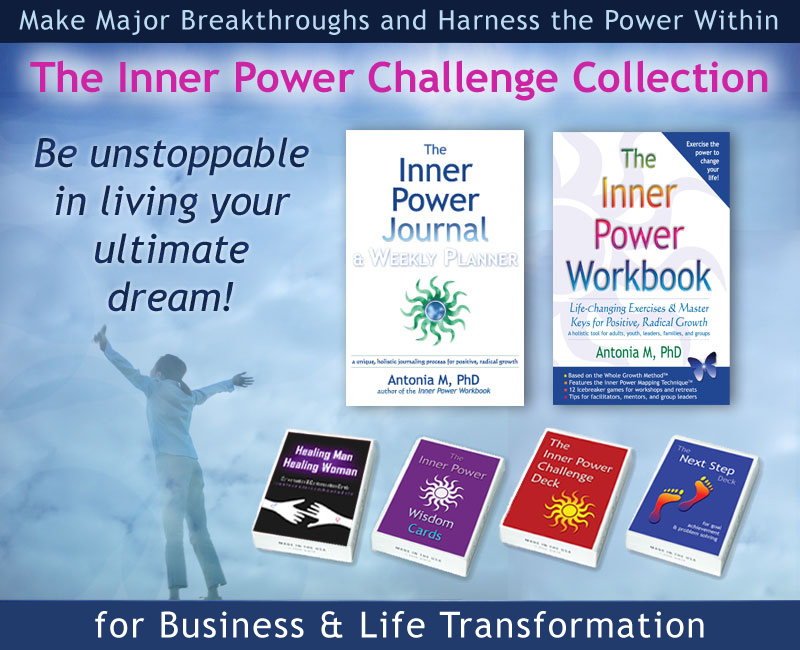 What do you want  to attract, create or master most in your life right now? Is there a project or goal you're having difficulty finishing or getting started? A transformation you're having trouble making? Perhaps you're struggling to build the relationship, prosperity, home, or social life you want. What's standing in the way between where you are and where you want to be? More importantly, what's going to propel you  forward to become unstoppable in living your ultimate dream? The Inner Power Challenge is an invitation to break through your biggest blocks, activate your full potential, and be unstoppable in living your ultimate dream. A powerful program for individuals, couples and groups, the Challenge will guide you step-by-step through an incredible metamorphosis that will bring your dream to life.

[swfobj src="http://www.healingspirit.com/journal/wp-content/uploads/inner_power_shine_video.swf" alt="Developing Your Inner Power video" width="320" height="265" class="aligncenter"]
Get the Inner Power Challenge Collection for Business & Life Transformation
and learn the 5 essential keys to living the life you want!
Learn these 5 critical keys to move beyond your limitations and onto the path that leads to fulfillment. With these 5 keys, you can attract, create, and master what you want, and easily maximize your powers of manifestation:
Key 1:

Shows you how to break

through your biggest blocks; seek and destroy your conscious and subconscious dream-killing patterns.
Key 2:

Will help you to ignite an

inner "Dream-making Fire"; you'll never get that burnt out feeling again or see the light of your dream flicker out.
Key 3:

Helps you find

and develop your true breakthrough path that will catapult you beyond greatest dream…and learn to cultivate the highest version of yourself who can walk this path

easily

.
Key 4:

Shows you how to activate

your full power and potential for success and learn to manifest with laser-like precision. Never get derailed, detoured or distracted from your dream again.
Key 5:

Learn to mobilize

and

effectively

support your dream. Let NOTHING stand in your way!
The Inner Power Challenge Collection takes you through a unique and personal step-by-step process to quickly and easily master these 5 essential keys.  You'll learn simple, proven techniques to accelerate your growth processes,  break through to your dream, and shoot down any curve balls that may come your way. With the Inner Power Challenge Collection,  you will be  uniquely empowered to achieve in just a few weeks, the goals and transformation you've been unable to accomplish in years.

You don't have to keep struggling with the same challenges and barriers that have held you back, stunted your growth, and blocked success in your personal, professional or spiritual life. You can take the Inner Power Challenge and finally get the results you want!
READ ON to see how others have changed their lives, like…
Mercedes who manifested thousands in just five days to keep her family from being homeless.
Antoinette who, after a year of unemployment that drove her into bankruptcy, not only turned her finances but attracted the biggest salary she'd ever had.
Stacey and 7 members of her family, who overcame in a few short months the most difficult obstacles they'd ever faced, from abuse to a family feud to life-long career stagnation.
Leo went from broke to jet-setter in just a few weeks just by doing a few exercises to get his career on track.
Sarah finally let go of the hidden baggage that was making her angry, overweight, and unlucky in love. She gave herself and her apartment a makeover, and now she's "happier than I've ever been."
What's in the Inner Power Challenge Collection?
Dr. M's collection contains 5 unique and powerful tools to help you break through your biggest blocks, activate your full potential, and be unstoppable in living your ultimate dream. The collection is designed for use by individuals, couples, and groups.
Next Step Deck – for goal achievement and problem solving (54 cards)

Don't get stuck in the process of transformation and manifestation. When you're not sure what to do next or how to handle a situation, The Next Step deck shows you how to break through your most immediate block. Based on a strong alchemical formula or process for harmonizing, maximizing, and shifting energy, this is a quick and effective way to come fully into Right Relationship with your goal or dream and move from where you are to where you want to be.

Inner Power Challenge Deck - for personal growth and soul mastery (54 cards)
Are you as powerful as you need to be to manifest what you want? Each

card in the Inner Power Challenge deck features a life-changing personal growth and self-discovery exercise to help you activate your full potential and to clear the blocks that disconnect you from your power.  The deck combines special versions of the most powerful exercises from Dr. M's workshops and her Inner Power Workbook. Uncover and develop hidden gifts;  live authentically in your power with integrity; build confidence and self esteem; radically improve your life;  increase your sense of purpose and clarity; break down your walls; and begin to master the power of mind-body-spirit.

Inner Power Wisdom Cards - for guidance, insight, and  inspiration (72 cards)
Turn positive thinking into transformational thinking that will elevate and empower your life. The Inner Power Wisdom deck is a great tool for daily meditation, group icebreakers, self-reflection, as well as

personal  sharing in personal growth circle, support groups, and spiritual gatherings . This deck  features selected excerpts from Dr. M's Inner Power Workbook and offers timeless wisdom principles to guide, inspire, and direct you toward the reality you want to create. From goal achievement and stress management to emotional healing and relationship building, the Inner Power Wisdom cards help you to cultivate your inner wisdom and harness the inner power to stay centered, focused, and effective in your life.

The Inner Power Workbook – for major life breakthroughs and harnessing the power within


Develop the internal power to support the external progress you want to make. The Inner Power Workbook will show you how you to make the personal shifts that lead to success, happiness and well-being in all  major areas of your life.  The workbook features powerful exercises, master keys and personal growth workshops to uncover and dissolve the negative patterns and subconscious blocks that arrest your dreams and your development.  Heal the gap between who you think you are and who you have the power to be.  Learn Dr. M's ground-breaking Inner Power Mapping Technique for facilitating powerful alchemical transformation, success, growth, and recovery.

The Inner Power Journal – for conscious metamorphosis and manifestation

Overcome one of the toughest challenges to manifesting your ultimate dream: staying in Right Relationship with it.  Not your ordinary journal, with the Inner Power Journal you will develop and sustain the clarity,  focus, and  momentum you need to bring your goals to fruition and your dreams to life. Use the journal's unique "Power Planner" and watch yourself evolve into a more conscious and powerful journaler, manifestor, and person. Used either as a standalone journal, in conjunction with the Inner Power Challenge Collection, or along with any other program, the Inner Power Journal brings about true metamorphosis in body, mind, spirit and emotion.

Healing Man, Healing Woman Transformational Conversation & Self-Realization Card Game – for evolving the connection to ourselves and each other (72 cards)
Are you only 10% of the man or woman you could be? Awaken the other 90% and see what kind of creator, mother, father, sister, brother, leader, lover, friend  you truly have the power to be.

Healing Man Healing Woman is a unique card game for one or more players that that will uncover the undiscovered man or woman within you. The object of the game is for players to balance and strengthen under-developed areas in their lives, relationships, and personalities—and to become the complete and authentic men or women they desire to be.  During the game, players create a "self-development portfolio" that: covers 10 major life areas; reveals hidden personal blocks; and challenges them to identify key attitudes, patterns or perceptions to support their greatest transformation. Evolve the connection to yourself and the men and women in your life. This deck is also a great tool for building healthier relationships, self-esteem and personal power.
PLUS: When you order your Inner Power Challenge Collection, you'll also get these 5 free bonuses to help you supercharge your power:
FREE BONUS #1 – Inner Power Starter Kit
You don't have to wait for your collection to arrive in the mail. Download the free bonus Starter Kit when you order your collection and get started IMMEDIATELY! "Prep your kitchen" for cooking up your ultimate dream.  This Kit will prepare for the incredible metamorphosis you're about to under go. Simply follow the 7 easy steps outlined in your kit, which includes warm-up manifestation exercises, video and article links, and a self-assessment to help harness your power to live your ultimate dream.
FREE BONUS #2 – Lemurian Formula For Mastery
This ancient alchemical formula is a proven secret to mastering anything! Even if you show no discernible aptitude, promise or talent

for something you would love to do

, you can become a world-class master at

anything

just by applying this simple little formula that will only take you a few seconds to learn and understand. It will significantly change and elevate your dream-building power.
FREE BONUS #3 – Chakra Clearing Meditation & Affirmation
Direct from Dr. M's

personal collection

, this simple meditation and affirmation/mantra will sweep your chakras clean and help clear even the most deeply buried barriers to your freedom and your dreams. The results will blow you away.
FREE BONUS #4 – Your Potential is Boundless Audio Track
Get motivated. Stay motivated. Just listen to this musical, motivational message for encouragement and a powerful reminder of your true power and potential.
FREE BONUS #5 – Outrageous Growth & Success Mini-Workshop (video)
Have a project or business that's not nearly as successful as you anticipated? One student used the exercises in this workshop to generate $15,000 for her business in less than two weeks. Watch this video and seriously accelerate your growth.
If you're really serious about living your ultimate dream right now, the Inner Power Challenge Collection for Business and Life Transformation is guaranteed to empower you to do it. Order the collection and the exclusive free bonuses here on Dr. M's web site.
What can

YOU

accomplish with the Inner Power Collection? Keep reading!
Look at some of the ways  the Inner Power Challenge Collection can help you get out of your own way:
Yet another year gone by without reaching your goal or resolution? Maximize your power of manifestation. Next Step Deck card #47 will tell you exactly what to do to break your cycle of under achievement.
Are you doubting yourself, your work, or your future? Stop! Do Inner Power Challenge card #25 and never doubt yourself again.
Afraid, reluctant or unsure? Workshop #5 from the Inner Power Workbook will give you  the courage, confidence and clarity to move forward willingly.
Need a financial boost or windfall? Mercedes used Master Key 43 from the Inner Power Workbook to manifest three months worth of back rent in 5 days to stop an eviction. Antoinette used workshop #35 to end her financial problems. Struggling entrepreneur, Samantha, combined workshop #50 with exercise #18 to generate over $10,000 in business in less than two weeks.Which one would you use?
Is your self-esteem or confidence in the toilet? Is it robbing you of your right to be happy, abundant, successful, beautiful or respected. Use workshop #25, 36 or 54 to raise yourself up.
Always hungry? Junk food junkie? Disillusioned with diets and weight loss "solutions"? Combine challenge #9 from the Inner Power Challenge Deck with workshop #49 from the Inner Power Workbook to get yourself under control.
Stuck in an unproductive or depressing rut? Pick Inner Power Challenge card #6 and end your ruts forever.
Can't find the emotional, spiritual or sexual fulfillment you need from a relationship? Have Healing Man, Healing Woman conversation #50 with yourself, your partner or even your family. It's one of the most important relationship conversations you will ever have in your life.
Question: How did one entrepreneur develop a winning marketing strategy to get new clients and completely sell out a big event?
Answer: She drew master keys #5, 38, and 33 from the Inner Power Wisdom Deck and followed the advice.
Sharon used the Inner Power Mapping technique to break through writers block, get her relationship on the right track, and land 5 new clients—and that's just what she did in the first seven days. Imagine what you could do!
Chronic Procrastinator? Can't finish that project or even get it off the ground? Nip it in bud using the Inner Power Journal's unique "Power Planner."
Drained, burned out, frustrated, and getting nowhere? Turn it around! Take challenge #27 from the Inner Power Challenge Deck.
Having trouble forgiving yourself or someone else? Do workshop 38 from the Inner Power Workbook. You'll never have trouble forgiving again.
Need to heal pain, grief, or the past? Apply workbook Master Key 52.
Wish you had more hours in a day to get things done? Take challenge #1 from the Inner Power Challenge Deck and see how drastically things change in just one week.
Can't figure how to fix what's wrong? Next Step Deck card #12 provides the secret.
Having trouble letting go of conflict, stress and struggle in your life? Follow workbook program VIII to worry-free freedom.
Is something or someone pushing your buttons and pushing your over the edge? Workbook workshop #34, Master Key #51, and Master Key #53 will revolutionize your life.
Worried, anxious, scared to death about how things might turn out? Don't worry, be powerful with workshop 16 from the Inner Power Workbook.
Is a lack of clarity or direction creating an endless cycle of crash and burn? Get your life into balance with workbook workshop #27.
Do your feel uncomfortable in your own skin? Are you insecure about your femininity or masculinity? Contemplate card #47 from Healing Man Healing Woman to mend that connection to your power.
Need to ace that deal, audition, assignment or other project? Step #46 from the Next Step Deck with get you into position.
Get onto the right path and your real destiny. Follow program XIII from the Inner Power Workbook
Are you ready to take the Inner Power Challenge
to live your ultimate dream? What are you waiting for? Get started NOW!
Order the Inner Power Collection now and get special holiday pricing! Download all your Bonuses IMMEDIATELY!
What People Are Saying
"Dr. M is brilliant. Her Inner Power Workbook really helped me connect to those places of blockage that seemed to prevent me from moving forward with certain aspects of my life. Her work really brings your underlying patterns to the surface so that you can address them in a profound and purposeful way! The Inner Power Workbook is a MUST HAVE for anyone who desires to stop clinging to excuses and start living their LIFE ON PURPOSE!"


—Simone Turner, CEO Holistic Transformations Global Wellness Service, LLC
Certified Holistic Health Counselor
---
"Dr. M…is able to strategically guide the willing sojourner to personal heights never imagined. Her ability to assist others in defining and focusing their efforts and potential is groundbreaking. Dr. M's work, particularly in the area of achieving breakthroughs, can be of tremendous benefit in corporate, non-profit, and community-based organizations, as well as for youth and gender-focused programs."

—Anita Davis-DeFoe, Ph.D., President/CEO,
The Afia Planning and Development Corporation
Author, Follow Her Lead: Leadership Lessons For Women and A Woman's Guide to Soulful Living
---
"Anyone determined to make significant changes in their life, Dr. M provides steps with practical concepts to help you reach your fullest potential. She provides motivating exercises to give you the confidence to trust your abilities and confront your weaknesses by tracking your progress."


—Terrance D. Richburg, Director
Men's Initiative Youth Development
---
"The Inner Power Workbook is a wonderful book that continues to help me focus on establishing balance, order and peace, and in bringing out the best in myself. As a mentor…I have recommended the book to a Rites of Passage organization to assist the youth in learning how to be introspective at an earlier age. The workbook is an invaluable tool.. for healing, growth and positive development."


—Sensei Veanda Simmons, President
Dynamic Visions of Excellence
---
"In the Inner Power Workbook…you have a balanced combination of motivation and powerful practices to accomplish your mission. Go for It!!"

—Manolo Cetina, Spiritual Leader
Founder, Conexion Humana